Welcome To Uganda Hotels Guide
Ruch Hotel, Kampala Uganda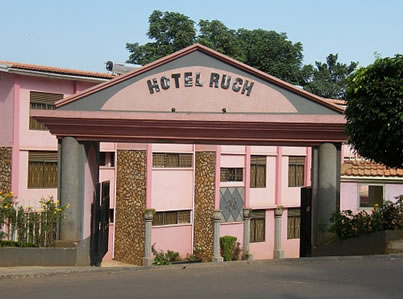 Hotel Ruch is one of the few Kampala Hotels where a warm welcome and a quiet night's sleep is guaranteed. Being one of the no-frills Kampala Hotels, we pride ourselves on providing quality hotel accommodation in Kampala, Uganda at competitive rates, rates that we believe are very good value for money. The hotel is located between Sheraton and Serena Hotels in Kampala.
Unlike suburb-oriented Kampala Hotels, we are only 5 minutes walking distance from the centre of Kampala with easy access to public transport.
Facilities provided include:
•           Free fast Wireless Internet Access (WI-FI)
•           24hr security (CCTV/Guards)
•           Air-conditioned Super-Deluxe rooms
•           Ample parking space
•           Mosquito nets provided on request
•           On-site Taxi Service
•           Shahi Darbar " Restaurant ( Continental, Chinese, Indian, etc.)
BAR AND GARDENS
"The Bonito" offers a vast selection of beverages including fine wines and whiskies, so lighten up and wind down over a drink in the Bar. Amongst Uganda Hotels, we are the only Kampala hotel with the serene wild-life themed Uzuri Gardens where you can relax in the midst of the Kings of the Jungle.
And for the Business minded, Hotel Ruch offers a Conference room making it the ideal place for Seminars and Conventions in Kampala.
ROOMS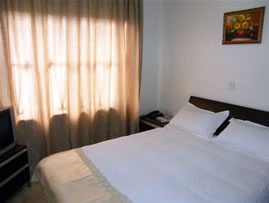 Rooms have been designed with simplicity and elegance in mind to offer comfortable living. All rooms reflect modern day living and include en-suite shower facilities, Digital Satellite TV and FREE fast Wireless Internet access. With most rooms overlooking the Uzuri Gardens, a fresh morning is always a certainty.

The super-deluxe rooms are vastly spacious, include a dressing-table, coffee-table, mini-fridge, stylish sofa and are fully air-conditioned.
Group Bookings are always welcome, and discounts for large groups are available.
We are committed to ensure that you have a pleasant stay with us and we focus on the quality of service, right from the instance you make an enquiry to the time you check-out.
Uganda Safaris and Tours
Top Uganda Safari Lodges