Welcome To Uganda Hotels Guide
The Imperial Botanical Beach hotel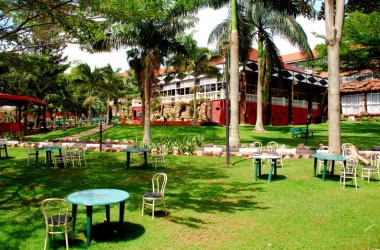 The Imperial Botanical Beach hotel has 229 sleeping luxury rooms and the finest convention center in Uganda and is a global landmark offering technologically advanced conference facilities overlooking the magnificent Lake Victoria. The Imperial Botanical Beach hotel offers everything to help the corporate set disconnect from the office and reconnect with what is important.
Hotel Facilities and services
- Modern well- equipped Conference facilities
- High speed internet in all rooms
- In-room electronic safe and mini bar
- Direct Dialing from rooms
- Swimming Pool
- Saunas
- Large secure car parking
- Doctor on 24 hr call

Accommodation Rooms
The well- furnished luxurious rooms and suites are all air conditioned and equipped with long baths, work desks, direct dial telephone lines, in-house video and cable satellite programs on large screens. 24-hour dedicated internet access, high speed data link in guest rooms and conference halls. Our rooms are equipped with Elegant furnishing, Direct dial telephones, In- room electronic safe and mini bar, Central air- conditioning, Work desks and Video and Satellite T.V.
They  include;
- 75 Deluxe Double Rooms
- 78 Lake View Double Rooms
- 32 Deluxe Twin Rooms
- 19 Economy Rooms
- 11 Lake View Twin Rooms
- 4 Palace View Rooms
- 3 Executive Suites
- 3 Executive Double Rooms
- 1 Imperial Royale
- 1 Imperial Monarch
- 1 Dembe Suite
- 1 Clinton Suite
Bars and Restaurants
Imperial Botanical Beach Hotel is a perfect spot to escape and rest, relaxing your mind while enjoying the imperial hospitality. Imperial Botanical Beach cuisine transcends traditional hotel dining even in our healthy selections and 24-hour in-room dining. From international, oriental to local cuisine, our five star restaurants are there to surprise you with that favorite dish.
Recreation and Conference facilities
We offer a complete conference package including special buffet menus, fully organized outdoor catering service, outings, syndicate rooms and audio visual equipment. Think of hosting your next executive corporate retreat or family reunion, international conference for 300 pax, or history making reception for 1,000. The Imperial Botanical Beach hotel offers everything to help the corporate set disconnect from the office and reconnect with what is important. Gymnasium & sports facilities in Entebbe Imperial Botanical Beach Hotel sports & leisure facilities
Uganda Safaris and Tours
Top Uganda Safari Lodges