Welcome To Uganda Hotels Guide
Golf course hotel Kampala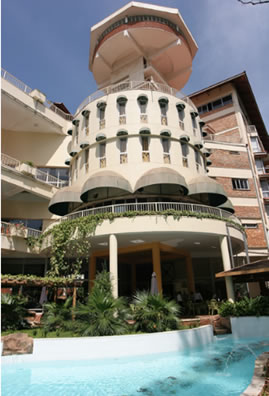 Location
The Hotel is conveniently located within a 45 minutes drive from Entebbe International Airport and only 5 minutes from the Kampala city center. Our location is perfect and convenient for honeymooners, business travelers, tourists, and those who wish to have a memorable visit to the 'Pearl of Africa', Uganda. We have Eight (8) Categories of Rooms for you to choose from: Deluxe, Executive, Family Suite, Business Suite, Honeymoon Suite, 6 Holiday Apartments and 3 Executive Villas.
Golf Course Hotel is a prestigious and a Luxurious hotel in the heart of Uganda - Kampala; a rapidly growing Nation in Africa.
The serene environment and Natural ambience from the Golf Course gives an elegant look and feel, making Golf Course Hotel an ideal destination for discerning travelers from all over the world. Our professional and skilled staff ensures that every person is a highly treasured guest.
Hotel facilities
Business Center,
Offers services such as photocopying and printing services, Fax, high-speed Internet and hot spots
Fitness and Recreation Facilities.
The Garden City Fitness center, located in Garden City Level 3 overlooking the prestigious Uganda Golf Course is a fully equipped Techno Gym with a fitness arena, free weights section, Aerobics zone, Swimming pool and Jacuzzi , Sauna, separate steam birth and physical massage, Spin biking, health bar, we undertake corporate and family memberships.
Relieve and ease at Garden City
Forex Bureaux and Banking with automated Teller Machines (ATM), (Standard Chartered Bank, Stanbic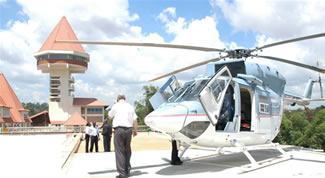 Bank, Barclays Bank, Orient Bank, Housing Finance and Metropolitan Forex Bureaux)
Ultra modern car wash, Dry cleaning and laundry, Taxi, designer-gift and craft shops, super market, tours and travel, Cinema and a food court and speciality restaurants.
Room Amenities.
Our trendy rooms come with a complement of Air conditioning, Hair Driers, In-room Satellite TV, Direct dialing telephone system, Hotspots for Wireless Internet Connectivity, Mini bar and Private Safe, Coffee/Tea making facilities, Reading table, a daily local newspaper, magazines and visitors seats coupled with a 24 hour Room Service, Laundry Services, Valet Services and a walk-in wardrobe.

Our Room Types:
- Honeymoon Suite: Sitting room with dining, private balcony kitchen and bedroom with a Garden view.
- Deluxe: Double/Twin bed and a mini bar.
- Executive: Double/Twin bed and a Bar counter.
- Family Suite: Two bed rooms (Twin for kids) Accommodates a maximum of 4 pax (2 - - Adults and 2 Children)
- Business Suite: Three in number and have an office, sitting room with dining, kitchen and bedroom with a Garden view.
- Apartments: Our spacious, fully furnished and serviced Apartments are located on the Fifth Floor, very secluded and ideal for guests who may want to try out their culinary arts.
- Executive Villas/Pyramids:
- 3 bedrooms (Master bedroom, Security bedroom and a room for Maids), Elegant Sitting Room, Kitchen, Swimming Pool, Dining room, Fridge, Waiting Lounge, Bar Counter.

Conference and Banqueting facilities.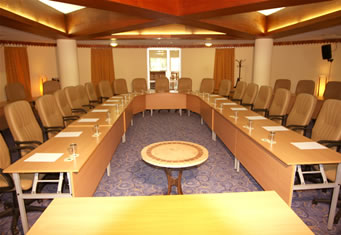 Our 3 meeting Rooms and one conference/banquet hall are ideal for international Conferences, Board Meetings, Seminars, Conventions, Trade Fairs & Exhibitions, Weddings and Cocktails.

Dinning, Restaurants & Bars
We invite you to come and enjoy the most delicious food from our three unique restaurants serving a range of Continental cuisine, Steak Ranches and Mexican specialties and traditional local dishes.
- 7Hills Revolving Restaurant
- Silver City Spur
- Bamboo Terrace, (Coffee Shop)

Bars
The famous Green Bar overs - looks the Uganda Golf Course and has hanging gardens.
Uganda Safaris and Tours
Top Uganda Safari Lodges