Welcome To Uganda Hotels Guide
Hotel Africana Kampala
HOTEL AFRICANA
Location
H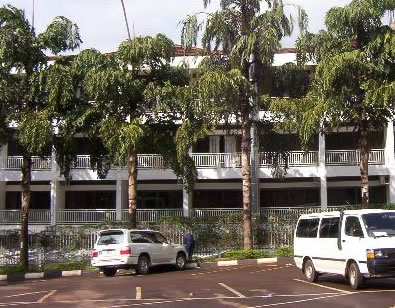 otel Africana is a luxury hotel in Kampala, just 50 minutes drive from Entebbe Airport.
Our location makes you feel at home from the moment you walk in featuring a panoramic view of the city skyline and surrounding hilltops.
Facilities
• Conference facilities
• Luxurious rooms
• Wedding reception facilities
• Restaurant and lounges
• Shopping malls
• Health club and golfing amenities
Our Dishes
Hotel Africana offers a wide choice of tasty dishes ranging from: oriental, western, culinary & Africana delicacies
Accommodation facilities/rooms
All rooms are fully equipped with an individually controlled air condition system, attached with a full private bathroom, a balcony overseeing the spectacular view, satellite television, Radio, fridge, wire and wireless internet access.
With 233 rooms comprising of 5 suites, 103 deluxe rooms and 117 twin bed rooms and 8 Apartments, offering splendid views.
8 Apartments with two Bedrooms each
Music/Radio System in all rooms
24hr satellite Television
Dining/ Bar
- Ngeye restaurant
This has a seating capacity of 120 pax, fully air-conditioned, well furnished and ideal venue for dinners and medium-scale wedding receptions. There is a wide choice of tasty dishes ranging from oriental, western and traditional African delicacies under attractive ambience .
Kibs restaurant
At the Coffee shop enjoy a hot beverage and sample a flavorful variety of snacks and pastries 24 Hours a day.

Dishes
Hotel Africana offers a wide choice of tasty dishes ranging from oriental, western, culinary specialties, traditional Africana delicacies under attractive ambience with dedicated friendly staff.
RECREATION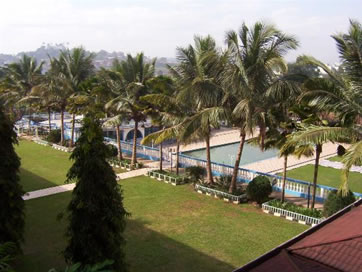 Entertainment
Hotel Africana offers weekend entertainment featuring live popular bands and pulsating traditional dance music shows.
Health Club
Hotel Africana boasts of its modern health club comprising of sauna, massage, steam bath, gym and aerobics. Hotel Occupants get free access to health facilities apart from massage. Our gym equipment is ideal for everyone's health fitness needs and our professional instructors ensure your receive total workout satisfaction.

Garden and Terrace
Our garden is an ideal place for relaxation after a hectic day over a drink with our mouth watering muchomo (roasted meat). It is also a favorite venue for outdoor functions. There is space for up to 2000 guests.
Golf
Hotel Africana is proud to have been pioneer winner of Inaugural Corporate Golf Tournament

Pool Sport
The Ultra Modern swimming pool with a restaurant and gym in the sides, were guests enjoy swimming all day. A place also ideal for wedding receptions, concerts, exhibitions and  well equipped gym that has the latest gear technology complete with sauna, steam birth and Jacuzzis.
Uganda Safaris and Tours
Top Uganda Safari Lodges