Welcome To Uganda Hotels Guide
The Fairway Hotel Kampala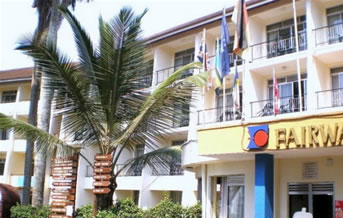 The Fairway Hotel is a hotel in a garden, the unique setting with the main building surrounded by trim lawns, flower bushes, shady trees and magnificent palm trees which were planted some 45 years ago. The Hotel  is located  on a four and a half acre plot. The sweeping views from the rooms include the lush Kitante valley, Kololo hill and the Kampala 18 hole golf course.
Fairway Hotel has 96 double, 6 single rooms and 8 Suites. All rooms are equipped with telephones, refrigerator and Satellite TV. Two satellite dishes carry most of the international channels covering sports and news. Each room is supplied with complimentary bottled water on arrival.  
The Fairway Hotel is set within the charm of the country side within walking distance of Kampala city and business district.
BARS
- Public Bar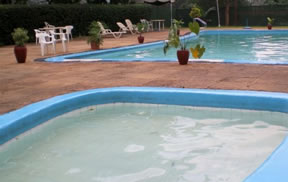 - Spanish Bar
- Zebra Bar
- Pool Bar
RESTAURANTS
- Treetops Restaurant
- Garden Cafe restaurant
- Nyoma Choma restaurant
ACCOMMODATION
All Rooms
Fairway Hotel offers self contained rooms with double locking systems, direct dialing phone, Air conditioning and/or electric Fans, refrigeration, satellite TV and a reading desk and chair. 90% of the rooms are with balcony, table and chairs.

Main Block
The rooms at the front of the hotel on the main block overlook the golf course and the Kololo hill residential area and lush Kitente Valley
Rear of Hotel
Whilst the in the quite back house face the well kept back garden. These are more spacious rooms, self contained, double looking system, direct dialing phone, air conditioning, satellite TV, Refrigerator etc
Uganda Safaris and Tours
Top Uganda Safari Lodges