Welcome To Uganda Hotels Guide
Laico Lake Victoria Entebbe Hotel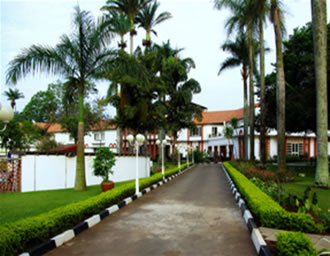 Laico Lake Victoria Entebbe Hotel is a Spacious, elegant and lovely hotel nestled in well-manicured, palm-studded Step over the threshold of Lake Victoria Hotel into an Oasis of tranquility in classic colonial style. We have 92 executive and 12 standard "ensuite" rooms, air conditioned with telephones. nTropical gardens with verandahs and terraces overlooking the calm beauty of Lake Victoria Hotel.
Hotel facilities
•           Banquet halls.
•           Health club and Gym.
•           Room Telephones
•           Bars and Restaurant
•           Swimming pool
•           A health club
•           Conference facilities
•           Well-maintained Botanical Gardens.
•           Free parking facilities
•           24-hour parking security.
Restaurants
Our hotel restaurant is at your service during your stay at Lake Victoria Hotel, relax in our luxurious surroundings while you enjoy your meal. Our restaurant serves a delicious breakfast, lunch and evening meal. Drinks are available, from national and international quality wines and spirits to non-alcholic drinks and various types of coffee.
Relax and enjoy our high class restaurant service at Lake Victoria Hotel. Our professional waiters will be at you service to take your orders from our varied and delicious breakfast lunch and dinner menu.
Our Restaurant Quality
Lake Victoria Hotel is proud of the quality of the food and beverages that we offer in our hotel restaurant, all ingredients for our delicious dishes our checked for freshness, and served with pride.
Bars
- The Pool Bar
The Pool Bar is an aquatic lounging area which easily attaches to any type of swimming pool.
- Palm Bar
The Palm Bar provides a relaxing environment which extends the use of the cool breeze.
•           Sit under the shade of the umbrella while enjoying lunch.
•           Stay cool while enjoying your favorite beverage.
•           Unwind, relax and enjoy the holiday feeling.
- Kuwinda Bar
The "in" place at poolside, by day and by night Bar and table seating plus two community tables, Dining, cocktails, Open till midnight, and the music never ends.
Facilities
The Lake Victoria has a first class generous size outdoor swimming pool with separate children's pool.
For any kind of reception, banquet, business meeting or an international conference, Lake Victoria is an ideal setting for up to 250 people.
Business center
The Business center offers Broadband Internet, secretarial services, word processing, photocopying, and fax facilities in addition to medical services.
Internet Services
Coupled to the above, we also have hotspot Internet access in public areas, meeting rooms, along the swimming pool that makes it very convenient for Laptop users.
Airport transfers
There is a courtesy Shuttle to and fro the Airport for the convenience of our guests.
Shopping
Our Shopping Arcade stocks a variety of essentials and Souvenirs and your onward travel or tours can be arranged with the Hotel. 
Golfing
There is an adjacent Golf club, which welcomes temporary members. Free green fee for residents of the hotel.
Health center
The Health Centre has everything for skin care and body fitness including excellent gymnasium with well trained instructors and a dry sauna, as well as a range of message and health and beauty treatments.
Uganda Safaris and Tours
Top Uganda Safari Lodges