Welcome To Uganda Hotels Guide
Imperial Golf View Hotel Entebbe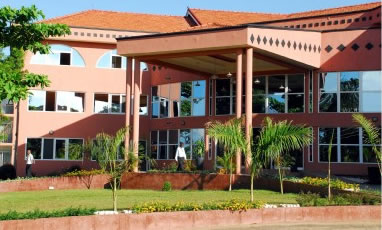 Experience our newly opened Imperial Golf View Hotel, walking distance from the Entebbe Golf Course and the Lake Victoria and five minutes drive from the Entebbe International Airport.
86 Guest rooms Four conference halls and a board room each traditional in design yet comfortable and stylish.

Enjoy the Imperial Golf View Hotel- Restaurants, Golf course , Lake view, bars and night life all walking distance.
The hotel has a breath taking panoramic view of the Great Lake Victoria and the Entebbe Golf course.The Imperial Golf View Hotel is also within a five - minute walk to the famous Botanical Gardens and a seven minute walk to the Wildlife Education Center (Zoo).
Accommodation
Enjoy your stay in Imperial Golf View Hotel which has a total of 61 pleasant , self contained rooms, equiped with digital setelite TVs. 45 of the rooms have air conditioning. Catch up on work at the desk, check your emails with internet access or stretch out on the sofa.
You can see the wildlife at the Uganda Wild Life Education Centre (UWEC), play a round of golf at the Entebbe Golf Course or go for boat rides on the lake at Entebbe Sailing Club, you may also have a day's tour of Ngamba Chimpanzee sanctuary Island.
Meals
Breakfast is served between 6:00 A.M. and 10:00 A.M. and is included in the accommodation bill. The dining room is open for lunch buffet from 11:30 A.M. to 2:00 P.M. and dinner from 6:00 P.M. to 10:00 P.M. throughout the whole week. We offer a Lunch Buffet service featuring both continental and local Uganda dishes
Imperial Golf View Hotel Services
Conference facilities
We offer conference rooms ranging from 20 to 200 seats and are able to handle four functions simultaniously. In addition, small groups of people can be provided for on the various terraces. Facilities include projectors, flip charts, public address systems, television and DVDs.
Business Solutions Centre
Our modern computer lab has stable internet access. We offer faxing, copying, printing, scanning, binding, laminating and secretarial services, telephone cards plus a kiosk for essential personal requirements (like toothbrush, hankies etc..). The Business Centre is open Monday to Saturday between 8.00am and 10.00pm, Sunday 9.00am to 5.00pm.
Weddings & Receptions
Our expansive gardens can be used for holding both conferences and receptions and have a wonderful atmosphere for weddings. We can offer the hospitality of a wedding at home, with the elegance of superb setting and staff who enjoy making weddings and receptions a worry free pleasure that you and your guests will enjoy and remember.
Uganda Safaris and Tours
Top Uganda Safari Lodges