Welcome To Uganda Hotels Guide
Elephant Safari Village Entebbe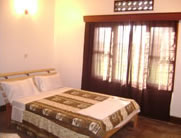 Located just 10 minutes drive from Entebbe International Airport, Elephant Safaris Village is a very quiet place and good for nature walks including forest walk in the Botanical gardens; a lot of bird species and monkeys which share breakfast and lunch with us. Our breakfast comprises of pure Arabica coffee, fresh fruits; English breakfast on order and many more. Dont miss out on the lake view on our terrace and a walkable distance to Entebbe Wildlife Centre (Zoo).
Also suitable for: Cocktail parties, Get-together parties, Bridal dinners and Graduation parties
Services offered
* Accommodation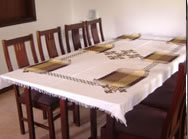 * Meals
* Airport Transfers
* Venue for conferences, cocktail parties, get together, bridal dinners and graduation parties.
* 24 Hour Reception
*
Facilities
    * Bar
* Restaurant
* Parking
* 24 Hour Security
* Laundry and Dry Cleaning
* Luggage storage

Room Rates
Type of Room                                                 USD
Elephant (Self contained Family Room)     60
Gorilla (Single room)                                      40
Leopard (Double Room)                               40
Note: All the above rates apply to per person and includes bed and breakfast.
Uganda Safaris and Tours
Top Uganda Safari Lodges